New
Low in Stock
Out of Stock
Elemental Layer Short Sleeve Crew BK S
$51.10
(Duties & VAT included)
Overview
ELEMENTAL LAYER, finetrack's fundamental series of the foundational layer worn directly on the skin under a sweat- wicking, quick-dry, high-performance base layer, protects your skin from sweat chill, wetness and stickiness. It is a highly recommended piece for all who are active in the outdoors.
The highly stretchable soft mesh material allows a full range of body movement, providing a comfortable, stress-free, functional fit.
Suitable for wear in all seasons, ELEMENTAL LAYER features an excellent balance between moderate warmth retention and rapid sweat removal.
The durable water repellency has evolved to 80 points per 150 washes, and the fabric is treated with antibacterial and deodorant technology.
When worn by itself, this ultra-thin mesh textile is slightly translucent.
Features
■Excellent, durable water repellency, rated 80 points / 150 washes (JIS L 1092 Spray method)
■Anti-bacterial and odour control
■Sewing specifications to ensure the fabric is gentle on the skin
Care Instructions
※ELEMENTAL LAYER is most effective when layered with a sweat-wicking, quick-dry, high-performance base layer. Please wear ELEMENTAL LAYER directly on your skin and layer with high-performance base layer overtop for best results.

※ELEMENTAL LAYER is made of delicate knit fabric to achieve an ideal balance between lightness and functionality. While engineered to be as durable as possible, please be advised that damage to the fabric may occur from repeated rubbing, contact with sharp objects, or accidental hooking on branches or hook-and-loop fasteners.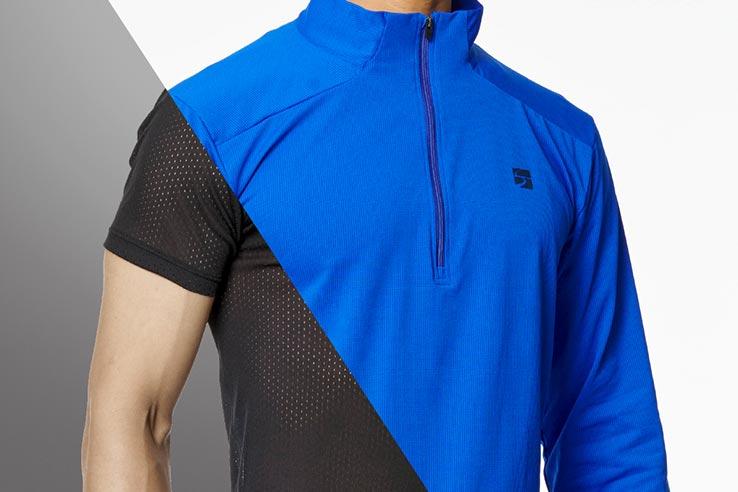 Just wear ELEMENTAL LAYER® under your base layer
Finetrack's innovative, next-to-skin, ELEMENTAL LAYER®, worn underneath your usual sweat-absorbing, quick-drying base layer, provides high-performance synergy to keep moisture away from your skin, keeping you dry and comfortable so you can focus on enjoying your outdoor adventure.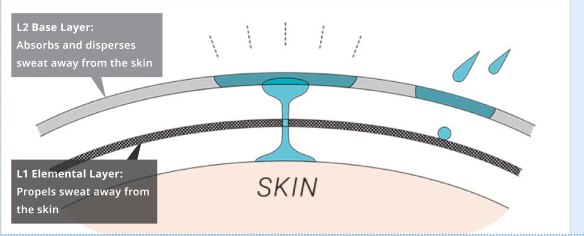 Repels water and keeps your skin dry
Soft and comfortable, this ultra-thin, water-repellent layer lets through sweat to the base layer through fine mesh, keeping you dry by protecting your skin from touching wet base layer during the time the base layer is drying.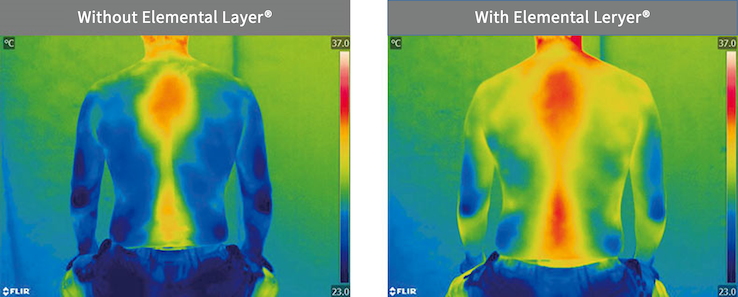 Reduces cold perspiration chill to conserve energy and warmth
When you feel cold, you must expend more energy to maintain body temperature. Worn under a moisture-wicking base layer, ELEMENTAL LAYER® helps keep perspiration away from your skin, preventing perspiration chill and avoiding unnecessary energy consumption.
How to solve the problem of "sweat" while climbing
Just wear a Elemental Layer under your sweat-absorbent clothing!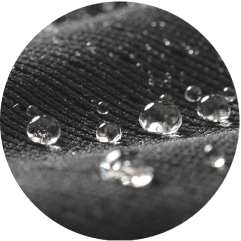 Elemental Layer that solves problem of sweat while climbing
The secret is "Water-Repllent"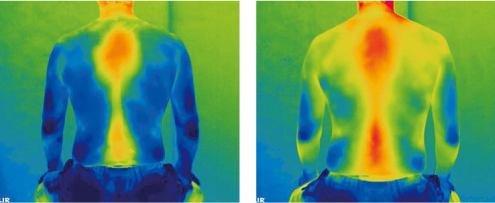 Water repellency is effective against "Cold"
A dry layer that repels water with a water-repellent finish and rarely gets wet, so the wear itself is always dry.Even sweat-absorbing quick-drying wear and polypropylene wear retain water, and it takes a certain amount of time to dry.A dry layer that hardly gets wet will keep you dry and warm.
That's why the cold during mountain climbing is solved!